Please share your sunset photos from the Big Bamboo Bayside, or tag us in them on Social Media.  Here is one from Margie from Atlanta who visited us this weekend.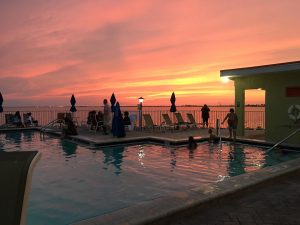 Big Bamboo Bayside is leasing space inside Sailport Waterfront Suites.  They want us here for one purpose…to bring food & drink service to the guests of Sailport.  We signed the lease and need to follow their rules if we want to stay here.  According to our lease, we are open to outside diners any weekday until 2pm.  But if you enter the property solely to hang out at Big Bamboo, you cannot use the pool or visit other parts of the property that are reserved exclusively for people staying in one of the Suites.
During Covid times, when there wasn't as many guests staying at Sailport, the property manager revised it so locals could come in any day up until 8pm and help us out financially so we wouldn't leave.   And that lasted almost a year, until one of the locals did go to another part of the property…spilled his drink…slipped on it and fell on his butt.  He was so embarrassed he actually hired a lawyer and sued the resort.  He ruined it for all.  The worst part is, he lied about what he slipped on.  His friends all filled out witness statements against him.  And he still has the nerve to try and come in and demand a discount on food.  When this lawsuit happened, the property manager immediately declared no locals were allowed in at all…any time. That lasted about 6 months until things calmed down.  Now we are back to our original rules…locals can only come on property to dine on weekdays before 2pm.  That's it.  Not any time on a weekend.
The Rocky Point Discount for local residents is on hiatus.  The last one expired at the end of 2021.  We might start it up again during slow season this year.  But there is still a discount for office workers on Rocky Point if they can show their business card that tells us which office building they are in.  Office workers coming over for lunch have been great.
We love our local fans…especially the ones who helped support us during the bad times and help us in regards to honoring the rules.  But there are a handful of locals that are causing trouble and picking fights with security and demanding old discounts be reinstated, demanding customized menu items, bringing their animals onto the property (it's a "no pet" resort), getting drunk and causing trouble for the resort and it's guests.  We don't want that entitled behavior or trouble here, and if you are one of those people, you are ruining it for the others who do follow the rules.  Security is doing their job and we support them.  Let's all be cool.  Thank you for your help.